>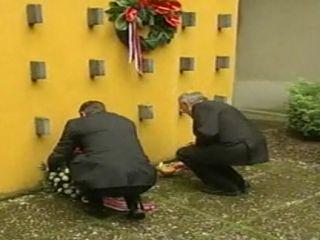 This is the true master of Slovenia receiving the orders directly from ROME:
"..........The

controller

and the

superior

of archbishop metropolitan Anton Stres - Jesuit Provincial of Slovenia Milan Bizant. Appointed in February 2008 by 30th General Superior Adolfo Nicolas. Born in 1961 – about four brothers of the family two became priests. Entered in 1987 in the Jesuit order. During the novitiate he studied

philosophy

in the city of Padova and then

theology

in the Gregorian University, Rome. He completed the Jesuit formation in Australia and from 2002 works as

priest of students

in Maribor




(See:

http://aktualno.rkc.si/?id=8653

)

......."
Pahor in Stres: Skupen poklon žrtvam povojnih pobojev in nacizma




24. julij 2010 ob 08:21,
zadnji poseg: 24. julij 2010 ob 19:24
Celje - MMC RTV SLO/STA

Kadar koli smo priče novim razkritjem vojnih ali povojnih tragedij, smo bolj moralno šokirani, kar kaže, da dozorevamo kot narod, je po obisku Hude Jame in Starega piskra dejal premier Pahor.

Premier Borut Pahor in ljubljanski nadškof in metropolit Anton Stres sta se namreč skupaj poklonila žrtvam povojnega nasilja v rovu Barbara in žrtvam nacizma v Starem piskru. Gre za prvi skupni poklon premierja in ljubljanskega nadškofa, ki sta pred vhodom v rov Barbara v Hudi Jami pri Laškem položila cvetje in svečo in se tudi podala v rov.

ODZIV PREDSEDNIKA REPUBLIKE ZA TV SLOVENIJA:
Predsednik republike Danilo Türk je v odzivu na današnji skupni nastop premierja Boruta Pahorja in ljubljanskega nadškofa in metropolita Antona Stresa spomnil, da je 1. novembra lani skupaj s predsednikom vlade in predsednikom DZ-ja Pavlom Ganatrjem tudi sam položil venec v Hudi jami in se tako poklonil žrtvam.
Obenem je pozval, da naj se preiskava, vezana na Barbarin rov, čim prej konča, nato pa naj se sprejmejo sklepi, kako ukrepati.
Današnji skupni poklon po njegovih besedah gotovo prispeva k pomirjanju in je del spravnega procesa.


"Slovenci smo s tem, ko smo postajali zrelejši kot narod in država, postali zrelejši tudi za občutenje tragedij, ki so se dogajale med drugo svetovno vojno in po njej," je še dejal premier Pahor. Ob vseh teh razkritjih si želimo, da bi se s tem spominom soočili in ga na primeren in pieteten način tudi umestili v našo zgodovinsko zavest, je dodal.

Tako premier kot nadškof sta sicer izpostavila dolžnost države, da prikrita grobišča uredi. Dolžnost države je, da v Hudi Jami opravi pietetni pokop trupel, je opozoril Pahor, saj bodo na ta način prispevali k zorenju splošnega občutka za dobro in pravično.

"Ljudje niso izgubili le življenja, ampak tudi pravico"
Po besedah ljubljanskega nadškofa pa današnje dejanje ostaja na ravni tistega, kar je najbolj temeljno - moralne zgroženosti in sočutja, "ki ga dolgujemo vsi tem ljudem, ki so v strahotnih okoliščinah izgubljali življenja". Verjame, da bo premier naredil vse, da bodo tisti, ki so v Hudi jami končali v strahotnih okoliščinah, dobili spoštovanje, ki ga zaslužijo.

Kot je povedal, je še vedno zgrožen, ko prebira spomine na leta med in po vojni, ter zgodbe številnih sorojakov, ki so trpeli zaradi domoljublja in resnice. Ne le, da so ti ljudje izgubili življenja, ampak so izgubili pravico, je poudaril Stres in dodal, da je premierju hvaležen, da sta imela možnost skupaj obiskati omenjena kraja pobojev.

Dogodka sta se udeležila tudi minister za delo, družino in socialne zadeve Ivan Svetlik ter celjski škof Stanislav Lipovšek, so sporočili iz kabineta predsednika vlade.

Vodja sektorja za vojna grobišča Marko Štrovs je v Hudi Jami povedal, da so samo ta mesec našli deset grobišč, od tega štiri množična: v Novih Tepanjah, Šoštanju, Velenju in Košnici pri Celju, kjer je posmrtnih ostankov od 600 do 1.000. Za ureditev kostnice v Barbara rovu pa po njegovih besedah že poteka javno naročilo.

V rovu Barbara naj bi smrt našlo okoli 2.500 ljudi
V rovu Barbara v Hudi Jami pri Laškem so marca lani odkrili množično grobišče. Tam so našli posmrtne ostanke skupaj 430 ljudi, predvidevajo pa, da so v rovu posmrtni ostanki približno 2.500 ljudi. Z grobiščem se je ukvarjalo tudi celjsko tožilstvo, ki je preiskovalo kaznivo dejanje vojnega hudodelstva zoper človečnost, ki je bilo storjeno v povojnem času.

Dela v rudniku so sicer končana, najdeni posmrtni ostanki žrtev pa so trenutno shranjeni v opuščeni strojnici v rudniku in v prvem jašku rudnika. Trenutno so končana tudi predlagana posamezna preiskovalna dejanja, so sporočili s celjskega tožilstva.

374 talcev ustreljenih v Celju
Pahor in Stres sta se poklonila tudi žrtvam nacističnega nasilja v Starem piskru v Celju. Na dvorišču tega nekdanjega zapora so namreč nacisti v letih 1941 in 1942 ustrelili 374 talcev.

Premier Pahor se je sicer udeležil tudi nedavne spravne slovesnosti ob grobišču pod Krenom v Kočevskem Rogu, Stres pa je tedaj vodil mašo za žrtve revolucionarnega nasilja. Pahorjeva udeležba na slovesnosti je bila presenetljiva, saj v RKC-ju na slovesnost niso vabili nikogar z državnega vrha. Vendar pa je nato ekonom novomeške škofije Janez Gril pojasnil, da je do njega prišla informacija, da bi se Pahor želel slovesnosti udeležiti, zato mu je vabilo tudi poslal.
-----------------------

(As I have no time, no resources, no money, no support at disposition, it is clear that what I wrote is affected by many errors and uncorrectness. I am not a prostitute lay journalist of this dirty Vatican 'tollerant' regime called 'democracy'. I have not the 51% of the Bank of America supporting my writings. I don't control the Casinò of Ostenda and neither Citroen and Peugeot as the General Superior did at least in 1958. So corrections and additions could appear in the future)