>
Television "
Primorka
" is a Slovenian television channel controlled by the priests of Rome. Could it be different? The area of broadcasting for "
Primorka
" channel is the Western Slovenia (the region
Primorje
/Amber Path South), the same area occupied by Italy with the
Rapallo Treaty
, after 1918. In other words, the region of Slovenia where raged the s.c. "
Fascism of the Borders
".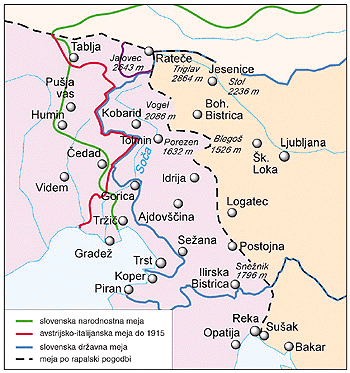 Above image -

The Primorje, or Amber Path South.

The dotted line limits the borders of the

Primorje

, annexed by Italy in 1918 together with

Istria

("

Obala

"). In blue the today's borders. Between the blue line and the dotted line there's the land of 'conquest' of Italy, which must come back here after

67

(

seventy seven

) years of absence. An easy job.
Here the Italians are buying every estate, every field, every little piece of Slovenian soil they can grasp. But they can do it. Slovenes are extincted. Only a bunch of followers of the local "bunga-bunga" (Narodna Zabavna Glasba) are populating these lands. They are selling not their true soul, which doesn't exist no more. They are selling what remains of the material rests representing that ancient soul. An exchange in the pure symbolism of the Council of Trent: Indulgences from the Italians ("money") in exchange of a 'good work', or the eternal loss of the land where
Primož Trubar
preached (famous his preaches in the city of
Gorica/Görz/Gorizia
). So don't be surprised to see the Italian flag in front of that Roman Catholic priest of Primorje, during his Saturday's preach of the hour 7 PM in the channel "
Primorka
". A conventional code, a sign,
"we-are-with-you-Italians!"
, it doesn't matter anymore. What matters is that they can do it. They are the
only
brains in Slovenia and the rest of population are only a bunch of human chickens, dancing at the rhythm of the National Amusement Music....:



<---------->





".....Venice has always been as sort of

ideal

coat of arms of the proto-Fascists of Adriatic coasts of the XIX century, and even in the XX century. The 'myth' of the Venetian civilization has always been used to justify modern crusades against the "barbarian Slavs". The theological content of those 'civilizing' crusades doesn't need to be explained: read other messages of this blog. The first thing the Irredentist did was to create a mimetic costume and they weaved it with the Venetian tissue. Then they put it on the map of the future Slovenian provinces to conquer and to 'purify' from the not Italian presence (practically from great part of the inhabitants), and baptized them like a newly born region with the name:

Venezia-Giulia

............"

--------------------------------
Your heart is white

since ancient ages,

It is like a piece of stone. -

It is white, white

at the moonlight.



Fire

sparkles

from your eyes

in the quite evening

and, watch,

we are the remains of a fire,

ancient cemetery,

within us it shines

only chaos.



"Dialogue with Trubar" - by Srečko Kosovel (§)


(Sežana 18th March 1904 - Tomaj 26th May 1926).

http://adrgegenreformationheute.blogspot.com/2011/03/lifeline-for-italianization.html
-------------------------------------------------
(As I have no time, no resources, no money, no support at disposition, it is clear that what I wrote is affected by many errors and uncorrectness. I am not a prostitute lay journalist of this dirty Vatican 'tollerant' regime called 'democracy'. I have not the 51% of the Bank of America supporting my writings. I don't control the Casinò of Ostenda and neither Citroen and Peugeot as the General Superior did at least in 1958. So corrections and additions could appear in the future)